Four exhibitions in Gdynia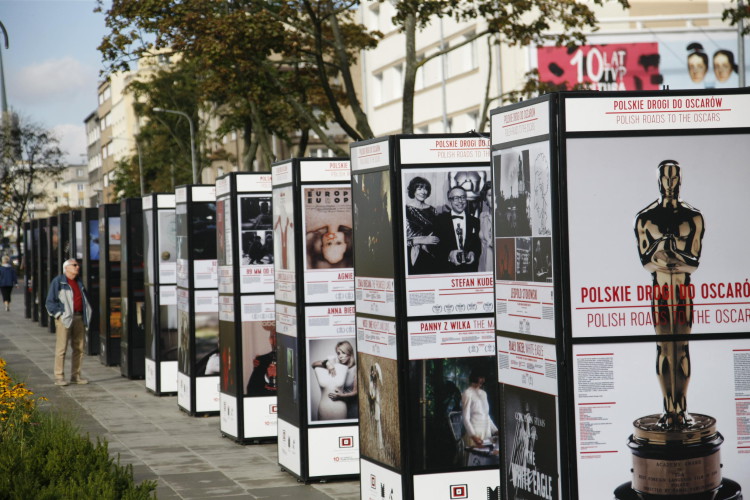 We are proud to announce, that on this years Film Festival in Gdynia, we are able to present four of our exhibitions, which is an unprecedented event in history of Film Museum in Lodz.
The biggest one, and the most most comprehensive, is dedicated to Roman Polanski. Film Museum has the largest collection of posters from Polanskis movies. Right now we have more then 500 of them in our archives, and we present them on the exhibition. Visitors can see posters from all over the world which are works of best artist such as René Ferracci, Jean Michel Folon, Clément Hurel, Bernard Bernhardt, Peter Strausfeld and Guy Ferrandis who has cooperated with 'Rosemary's Baby', 'Chinatown's' and 'The Pianist's' director from 2002.  The exhibition includes also such acclaimed posters by Polish artists as Jan Lenica, co-creator the Polish School of Posters, who apart from 'The Knife In the Water' – Roman Polanski's feature film debut – laid down visual identity  to 'Cul-de-sac' and 'Repulsion', Andrzej Dąbrowski, Leszek Hołdanowicz, Rosław Szaybo, Wiesław Wałkuski, Andrzej Klimowski and Andrzej Pągowski. Exhibition opens for public on Thursday 15th of September.
The exhibition is accompanied by beautifully published and richly illustrated catalog. 'Roman Polanski's Films in World Films Posters' album contains poster reproductions, fragments of Polanski's statements, as well as words from people with whom he worked (among many others: Peter Greenaway, Jerzy Skolimowski, Adrien Brody, Woody Allen and Brett Ratner). Album has already been appreciated by movie media (including The Hollywood Reporter and Screen International) and by Polish critics and people of cinema. 'It's one of the most beautiful albums of that kind I've ever seen. Unbelievable, precise work. On couple hundred pages we have an inside look on world wide perception of Polanski's films. We can see how differently they have been interpreted and how audiences been fascinated by them', Michal Oleszczyk, Director of Film Festiwal in Gdynia, said.
Two outdoor exhibitions are also presented during the Festival, both were prepared in conjunction with Polish Film Institute and Filmoteka Narodowa (the National Film Archive). '10 years of emotions' exhibition presents 70 movies selected form ones that have been most frequently awarded during last decade. Those movies have been financially backed by Polish Film Institute and the exhibition summarizes 10 years of Institute's involvement in Polish movie production. Next outdoor exhibition 'Polish roads to Oscars' has been crated to celebrate this year triumph of Polish cinematography in the Oscar competition. 'Ida' by Pawel Pawlikowski is the first feature length movie awarded with and Oscar in history of Polish film. Not only 'Ida's' success is the theme of the exhibition but all earlier nominations and every Oscar recipient is mentioned on it. Both of the exhibitions are displayed on Plac Grunwaldzki in Gdynia.
Another exhibition that refers to Oscar success is '#IdaTheFilm'. It's a display of all kinds of possible memorabilia, posters, photos, movie props etc. related to movie pre production, on set work and world wide cinematic success of 'Ida'.
Exhibition, already seen by thousands of visitors in Film Museum in Lodz, is on display from Sunday the 13th of September till the 15th od November in gallery of Gdynia Film Center.