Kinematograf – the Film Museum Cinema – in a Coach House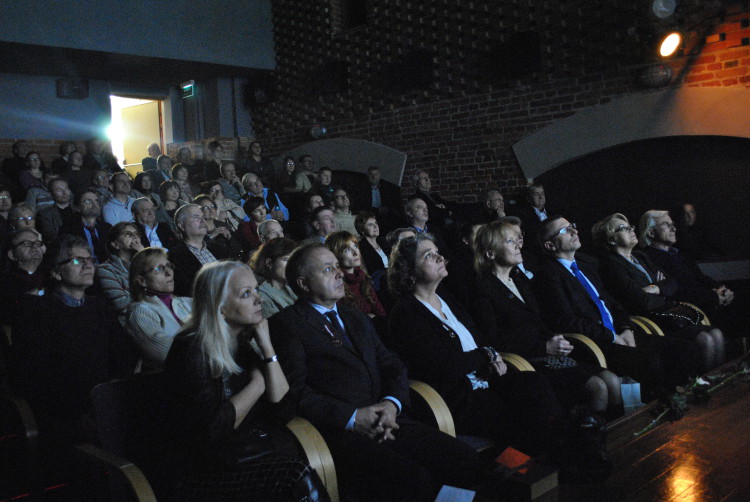 A small-scale cinema which has been operating since 2006 in a former coach house of Karol Scheibler's palace. The cinema belongs to the Network of Studio and Local Cinemas (Sieć Kin Studyjnych i Lokalnych) and to the Network of Polish Digital Cinemas (Sieć Polskich Kin Cyfrowych).
The cinema auditorium, of classic proportions, has been planned for 70 viewers. The auditorium has walls of unrendered brick, wooden floor, small stage in front of the screen and, instead of traditional cinema seats, comfortable modern chairs. Wide spacing between the seat rows and the inclined auditorium ensures comfortable conditions for the cinema audience. Just like in every real cinema a gong chime announces the beginning of the screening – the curtain is drawn and … a viewer is transferred to a magical world of the silver screen (in our cinema the screenings are held even for a single viewer).
A projection room is equipped with modern instruments which include two projectors: Ernemann 35mm and – a real rarity these days – 16 mm, as well as a multimedia projector SANYO Full HD, DOLBY Digital surround sound system and, since September 2013, a professional digital projector NEC900C 2K DCI with a 3D adapter. Digitalisation of the cinema was co-founded by the Polish Film Institute and the City of Lodz Office.
High-quality Blue Ray ONKYO and Philips players are used for screening multimedia materials. An induction loop has been installed in the auditorium to transfer sound directly to hearing aids.
By contrast to commercial cinemas, Kinematograf, apart from the latest film productions, offers the viewers also classic masterpieces of the Polish and international cinema. Here you can discover the cinema with all its riches and diversity: documentaries, animated films, experimental works are showed here on equal footing with feature films. You can attend lectures and thematic presentations, meet renown personalities from the circle of the 10th Muse and widely understood film art – directors, actors, cameramen, composers, animators, critics. You can participate in various events: festivals and film reviews, concerts, performances including theatre performances, dance shows, screenings of silent classics with live piano music.
Every Sunday the youngest viewers can join in a series of activities called Little Cinematograph (Mały Kinematograf). The Polish Film Academy organises classes for students and lovers of the Polish cinematography. These lessons are conducted by the most prominent Polish film historians and theoreticians.
In summer Kinematograf organises outdoor film screenings known as "Letni Kinematograf Rozrywkowy" (Summer Entertainment Cinematograph). These screenings are held in the Stary Rynek and in the courtyard of the Film Museum.
Contact:
42 674 09 57 ext. 151,
e-mail: kino@kinomuzeum.pl