HOW IT ALL BEGAN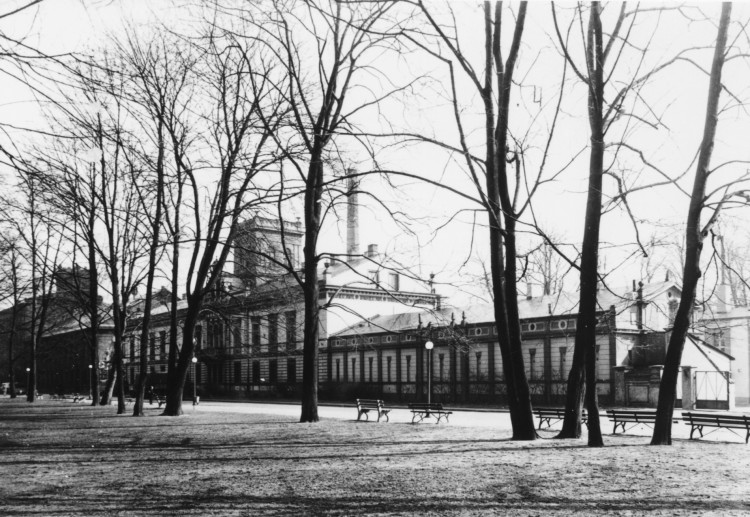 The Film Museum in Lodz is the only museum in Poland preserving exhibits related to film culture, art and technique. The Museum has been operating as an independent entity since 1 April 1986 although it had already been officially established 10 years earlier as the Film Culture Department (Dział Sztuki Filmowej) of the Museum of the City of Lodz. The founder and the first director of the Museum (until 2000) was Antoni Szram, PhD.
The Museum occupies not only the palace (a former residence of a factory owner – Karol Scheibler) but also an adjacent impressive former coach house building (currently with a state-of-the- art projection instruments and a small auditorium with ca. 70 seats) and a former stable which today houses workshops, some warehouses and administration and offices premises.
Renovation and maintenance works enabled adaptation of the palace for exhibition purposes. Substantial additional space was achieved through renovation of the attic. The preserved wooden structures form an excellent architectural frame for the gallery known as "the red attic" (unrendered brickwork). It is also worth noting a cleverly adapted basement which has been deepened in order to create an extensive exhibition – warehouse space. The semi-circular vaulted interior (which now houses also a fireplace) is perfectly fitted to serve as a gallery – an ideal place for various types of presentations, meetings and promotion events.
But a museum as an institution is not only about its seat or the exhibitions and meetings it organises. What defines a museum is first and foremost its collection. Our highly attractive holdings consist of more than 50 000 exhibits. The exhibits include unique instruments of the period before the cinema development: magic lanterns dating back to the turn of the century, a mutoscope or a working photoplasticon manufactured by the company of August Furhmann, an inventor of this instrument. The photoplasticon is a true rarity – one of the four objects of this type in the world. The Museum also owns an impressive collection of photo cameras and film cameras produced by worldwide famous companies. Another noteworthy collection covers diverse film projectors that illustrate consecutive stages of the film art development from the beginning of cinema to our times. These exhibits include amateur projectors and beamers for all tape gauges and various light sources – from oil-lamps to electric arcs. They represent all models manufactured in the no longer existing Lodz Kinotechnic Institute "Prexer" (Łódzkie Zakłady Kinotechniczne "Prexer") which was the only company of this type in Poland. Our holdings contain also several thousand Polish and foreign film posters, stills, a vast collection of screenplays (in various languages) and scripts. There are also stage designs for feature films and animated films including the works of such artists as Anatol Radzinowicz, Lidia and Jerzy Skarżyński, Kazimierz Mikulski, Władysław Starewicz, Bogdan Sölle.
The Museum collection includes a rich archive of the Polish film artists – Andrzej Munk, Jan Rybkowski, Aleksander Ford, Jerzy Ziarnik, Jerzy Toeplitz – donated by their heirs. These materials constitute an extensive collection of notes, correspondence, photographs, documents related to the artists' private and professional lives.
The Museum has its own film archive consisting of nearly 1 500 titles – feature films as well as animated films – mainly the titles that are part of the Polish film history. The Museum operates also in the publishing sector and was a co-producer of a few Polish films.